Back to wine list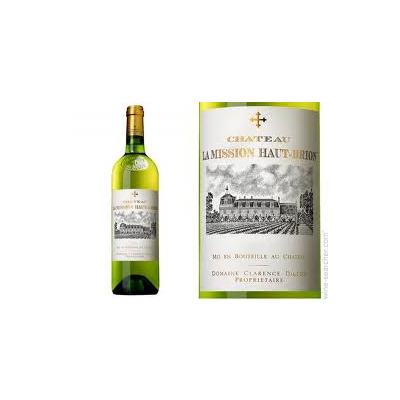 1979 Chateau La Mission Haut-Brion Cru Classe, Pessac-Leognan 1x75cl
Red ⋅ Bordeaux ⋅ France
Fill level:
Very Top Shoulder
Condition notes:
Very Top Shoulder
Duty Status: Duty Paid
£

320
(Ex. UK VAT)
£

384
(Inc. UK VAT)
Available: Soon
Duty Status
Price ex. UK VAT
Price inc. UK VAT
Available
ETA to UK Addr.
Duty Paid

£

320

£

384
Soon
1-2 weeks
1 bottle available
Enquiry
Tasting Notes
Vinous
87
The 1979 La Mission Haut-Brion is subdued on the nose and only gradually, reluctantly awakens with aeration, developing rose petal and summer red fruit aromas and a scent of mown lawn. The palate is quite animally, perhaps even showing some brettanomyces, and rustic and attenuated on the finish. Tasted at a private dinner in Bordeaux. [Neal Martin, 10/09/2019]
Anticipated maturity: 2019-2023
Robert Parker
89
Dark plum/garnet-tinged with some amber at the edge, the 1979 offers up notes of garrigue, truffles, damp earth, hints of iodine and seaweed (which I associate more with wines made within 100 kilometers of the Mediterranean coastline, not the Atlantic Ocean), sweet currants, plums, cherries, cedar and roasted herbs. This medium-bodied, elegant, fully mature 1979 is a lighter version of La Mission than the 1978, but, for the vintage, it is a dramatic, authoritative effort. Decent acidity remains and the tannins have largely disappeared. There is good aromatic complexity, but a slight superficiality and fading fruit in the finish suggest consumption over the next decade is warranted as this wine is unlikely to improve with additional age. [01/08/2012]
JancisRobinson.com
16.5
Brick rim and deep crimson. Very rich nose and round and glossy texture with good freshness. Getting a little dusty but there was obviously class here once. Drink up. Second bottle actually corked! [23/06/2008]
Anticipated maturity: 1990-2004
| | |
| --- | --- |
| Wine Type | |
| Country | |
| Region | |
| Subregion | |
| Vintage | |
| Producer | |
| Classification | |
| Bottle Size | |
| Pack Size | |
| Pack Type | |
| Duty Status | |
| Availability | |
Delivery
Our minimum order value for UK supply is £750 ex vat and £1,000 for export.
Delays on stock receipts, transfers and some deliveries are being experienced as we emerge from the pandemic. We ask for your patience and assure you that we and our partner LCB are working hard to return to normal levels of business.
Storage
The Tilbury warehouse of London City Bond is our chosen warehouse. Our storage charges are £12 per 9 litre case (and £6 for anything 4.5l or under), ex VAT per annum.
Insurance is 0.15% of the value and a minimum of £15 p/a (full replacement cover).
You Might Also Like
Duty Status: In Bond
£

1,300
(Ex. UK Duty & VAT)
£

1,579.22
(Inc. UK Duty & VAT)
Available: Now
Duty Status
Price ex. UK Duty & VAT
Price inc. UK Duty & VAT
Available
ETA to UK Addr.
In Bond

£

1,300

£

1,579.22
Now
1-3 working days